---
A little incident in the Hamble Winter Series White Fleet on 15th October 2006
---
Shirley and myself both have interests in sailing, and we have owned or do own several sailing dinghies.
I have succesfully completed the RYA Day Skipper practical course at the Hamble School of Yachting during a week in April 1996. I wish they could have arranged warmer drier weather !!
I completed the theory part of the course at about the same time, and this year I completed the Coastal Skipper theory course at Hamble Adult Education Centre with Dave,the principal of the Hamble School of Yachting as the tutor.
Great fun, especially letting off old orange smoke flares in the Mercury marina carpark. You have to hit them hard!
We are members of both the Hamble River Sailing Club and the Royal Southern Yacht Club.

---
Seafarer Mini-Seacourse
I have been asked a few questions about this venerable product, being the proud owner of one that came from a boat jumble a few years back and so I thought that I would create a webpage about it here.


---
The Oppi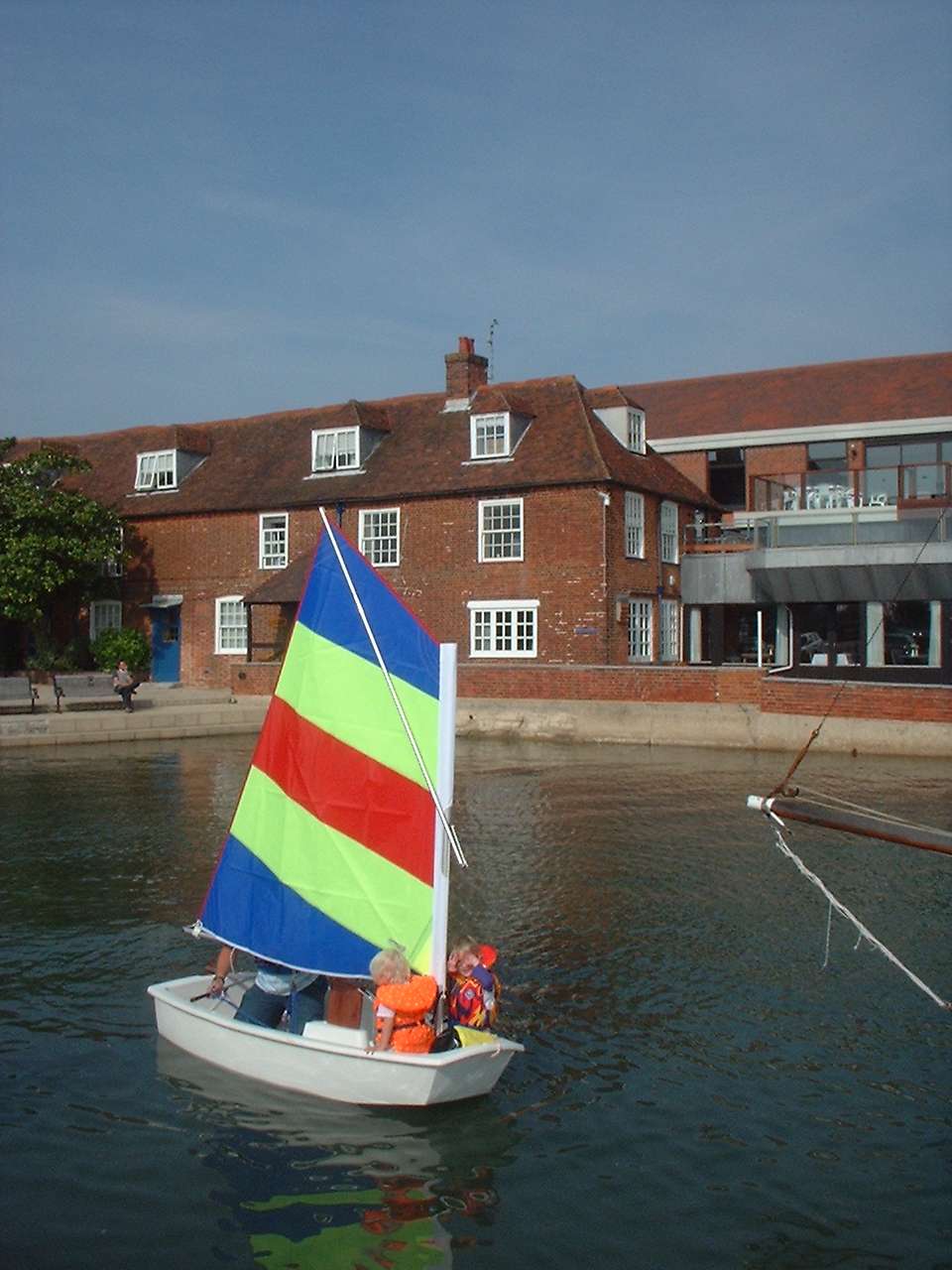 This is an Optimist clone which we discovered at the Southampton Boat Show 2002. We were looking for a low end Optimist; we didnt think our children needed a Winner just so they can dangle their feet in the water and simply enjoy sailing to start with.
It uses all of the accessory parts from the Optimist but is made from polyurethane and has a double skin hull instead of buoyancy bags. As a result there is enough room in it for an adult and 2 small children.
It doesnt have sharp edges or vulnerable parts (but it can be a bit slippery) . The mast is supported by a simple but sturdy ring bolted to the hull.
A nice feature is the provision of places where rowlocks can be fitted. It can have a rowing kit added to make it into a rowing boat as well. It rows reasonably well and can be used as a tender.

There are 2 rubber bungs based on pear-shaped rubber balls that allow for rapid draining of the hull. The hull has a proper drain plug on it. It has an air vent to prevent pressure build-up
The boat is made in Holland and is really intended by the makers to get children sailing cheaply so it is priced at £666 or €1000 if you come from the Euro-zone.
You get a choice of personalised sticker to place on the sail : designs indicative of the child owner.
It is imported by a company (The Dinghy Shop) in Lymington on 01590 674821, or contact mailto:info@oppisailing.com for more information, or visit
All of the parts of the rig and the foils are from Optimists : so they are cheap.
The trolley (dismantlable) cost £71 and a kit including oars and a thwart cost £25 for rowing
We have used it on the River Hamble and at Westbere Lake in Kent where it was fun to creep around narrow channels in the reed beds as it can turn easily in its own length with the centreboard down.
---
Hamble River Sailing Club Website
---
Melges 24 Racing, HRSC 7th November 1998


Some pictures of Melges 24 racing.
---
Warming Pan, HRSC 10th March 2001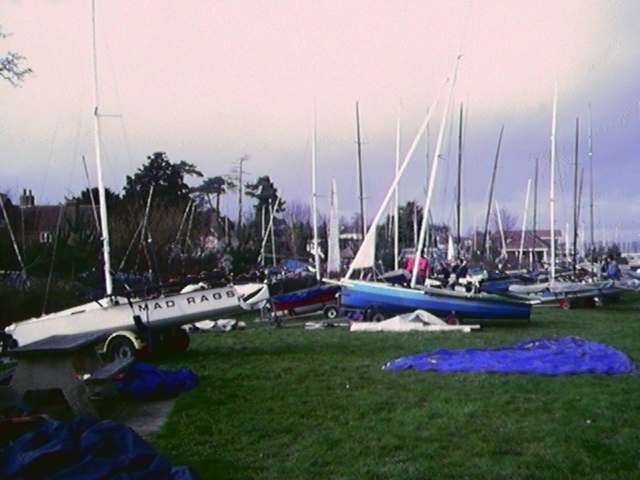 Some more pictures behind the boat park picture..
---
Hamble Rescue
A page about our local lifeboat.

---
A new sailing organization for the Tidally Challenged
Dont take this too seriously :-) !

---
Our yacht, Forethought
We bought a small yacht in 1996 - picture and info
Forethought : Westerly GK24
She has since featured in and on the front cover of Sailing Today, as the used boat test example of a GK24 in the March 2001 issue.

---
Solent Waypoints
I have prepared a set of waypoints for a Garmin GPS (models supported by Gardown e.g. GPS12/GPS45/GPS48). Here are some of the cans in the Solent: Solent Racing Waypoints. These are for the Hamble River/Warsash sailing areas.
These are transferred off a chart or actually logged by passing them and marking them. They seem to be in the right places, but don't rely totally on them !!.
You will need Gardown by Mike Montgomery , available from http://www.anali.demon.co.uk/gardown.htm. You will also need a Garmin serial lead.

---
How Not to get off a Yacht
This Saturday, August 2nd 1999 we were taking a friend for a sail. He has been out with us a few times, so we thought this time that we would let him have a go at helping to moor the boat.
We explained how all that you had to do was step off onto the pontoon and then take a half turn round the cleat with the bow line.
A nicely executed approach. Speed under complete control. WHAM! Shirley seemed to be having trouble standing on the pontoon. Friend standing on pontoon, with rope in the correct place. All under control.
It's a good thing that the GK24 only has low guard wires "designed to trip over" as the surveyor put it. Friend had cleared the guard wires and landed on the pontoon in a single bound. Turns out they had concerns about falling off if perched outside the wires waiting to step off.....

---
My Outboard Motor
See here as the story has got too long.

---
Ventnor Harbour
Interested in this harbour, and passing by by road, I took some pictures.
No Comment



---
Links to Other Sites
---
A boat scrubber/Scraper

Have a look at www.speedblade.com for a neat powered barnacle scraper for those who live with a plague of the things. If not fit the scrubber blade and clean the slime. It's 12 volt powered too.

---
Leisure Marine Preparations
For general boat electrical preparation, maintenance and safety work on the South Coast of the UK , from a roving husband and wife team
visit mysite.freeserve.com/leisure_marine_prep.


---
Misty Lady Charters
I have been doing RIB driving duties with Hamble River SC for the White Group in the Winter Series. The sailing club has been chartering Misty Lady, the last charter fishing boat on the Hamble, as a support boat.
We stop off at lunchtime on board Misty Lady for one of Gordon's creations and his food was good.
He mentioned that he had a website : here it is.

http://www.mistyladyfishing.co.uk

He has just purchased a new boat to replace the current Misty Lady , for a more luxurious experience, but I get a feeling that bashing it with dirty old RIBs tied up alongside will be a thing of the past.


---

Page © Mike James 19th November 2006
Comments to: m...@hamble.demon.co.uk