---
Westerly GK24
Before the GK24 (with thanks to Chris Hawkins who put me right)
The story of the GK24 began with the prototype : Chris Hawkins' IOR 'quarter tonner' boat 'Ebblake IV' built in cold-moulded mahogany at Aquaboats, which was raced successfully in the Solent.
Westerly's liked the design and decided to put it into production as the GK24. Chris Hawkins worked with Peter Anstey at Laurent Giles to create the production version, changing the deck to provide a window into the interior and a little more headroom
Chris then raced a production GK24, 'GateKrasher'.

GateKrasher was also a success and Chris won races against top Quarter Ton boats (including a recent World Quarter ton champion,'Genie' designed by Farr).

While he was winning races, Chris always raced with all anchors, chain, warps, fenders, bunks and cushions and crew kit on board. The boat was not stripped out for racing.

Chris's most recent production design is for the Hawk 20 which is a 'self-righting' 'unsinkable' dayboat which has sold over 200, as both a pleasure boat and a sail training boat.
---
GK24 racing

There were still enough around racong in 1998 for there to have been a national championship ( 1998 at Dartmouth 27-30 July, and subsequently, a GK24 trophy inside class 3 at Dartmouth Week) and a there is still separate result for CHS rated GK24's in the Round The Island Race. (Isle of Wight)

The Class Association, the 'GK24 Register' from 1998 to 2004 was in suspension, as the previous Secretary did not own a GK24 any more.


However, in 2001 , Mr Amos of the Class Association in Falmouth had taken over the Register, and was collecting information from current GK24 owners to keep the Register up to date.
He reluctantly sold his boat in 2004 as by then he was racing alone against J/24s at Falmouth, so he had to get one to continue racing competitively.


It was the sale of Golf Kilo that resulted in the picture which I took of her under new ownership off St Cats in the RTI.


Andy, the new owner got in touch over the picture, and we began email discussions.
In November 2004 , when there was a meeting at Portsmouth SC , we realised that there was sufficient interest to re-create a GK24 Owners Association, at present a loose grouping with a website.
Membership is free for 2004 but some nominal fee will be needed eventually to sort out the costs of things like the website.
The focus to be on trying to coordinate racing activities to get GKs out against each other in places where this is not happening. But we will not forget the social side : we are trying to work out exactly how to arrange things .


We propose to try and encourage all GK24's entering in e.g. RTI to enter in the same fleet so that we can actually race against each other, rather than in 2 different classes (ISC and IRC)

February 2004

The GK24OA have decided on the location and time of our launch party. We hope to get as many boats togerther as possible on the afternoon of Saturday 16th April in Portsmouth Harbour.
Probably at Haslar Marina.

http://www.gk24.org
Racing Fleets

The GK24's seem to have retained their popularity over some more outright racers from that period because their heavier displacement and interior layout allows them to be used as a small cruiser, which is their main role these days.

Outside of the Solent which is sometimes like a lake with a waterfall at one end (Hurst narrows/Needles channel), the better seakeeping of boats such as the GK24 allows them to still exist in the club racing scene occupied by sportsboats in the Solent. As a result, there are still small racing fleets in the West Country.

They are also to be found in Wales and Scotland .

---
Published reviews
Practical Boat Owner 1977

'Selling 3 a week' : 'less a Ferrari, more the MGB-GT of racing boats'.

Practical Boat Owner 1998

More retrospective, the only Westerly to 'make a name for itself' racing.

Sailing Today 2001

Best of all, Forethought, our own boat was reviewed in 2001 in Sailing Today.

My review here


---
GK24 page Contents/local links
---
Vital Statistics
There are several basic variants of the GK24, at least we have encountered these on our trails around the broker's lists, and on details on entry forms for the National Championships, and CHS forms that I filled in.
Basic Specifications
LOA : 7.32m


LWP :

6.46m : With 35L fuel tank, heater, 75kg of engine, 2 off 70AH batteries. Computed from transom touching water, (which it doesnt, now I go back and look) bow overhang measured with string , weight and a floating stick
6.20m : in reality. Guessed from these views below
..... .boat here ......
The white antifoul is where I am finishing off a tin of white antifouling in areas where the usual stuff has eroded back to epoxy.

6.00m : Chris Hawkins design specification for outboard motor version. Oops.

Beam: 2.85m

Weight: 1875kg : Low estimate : probably 100-200kg more but I havent managed to get time on a load cell.

Draft: 1.52m : Single Iron Keel

P: 9.45m Mainsail luff

E: 3.05m Boom Length

J: 2.59m Mast to bow

FL: 8.55m Forestay Length

LL: 8.37m No.1 Genoa Luff

LP: 3.84m No.1 Genoa Luff to clew

SLU: 8.53m Spinnaker Luff

SLE: 8.53m Spinnaker Leach

SF: 4.37m Spinnaker Foot

SMG: 4.71m Spinaker Mid Girth

SPL: 2.94m : Spinnaker Pole : longer than J so catches on pulpit, and passing boats :-(

Crew number : 5

Non Folding 2 blade propellor, inboard diesel weight 75kg.

This collection of figures gives a CHS rating of about 0.83 (25 year old design !)

Around and about the boat's accomodation
Deck views
Forethought's Deck
Headroom

Although the accomodation is reasonably spacious in floor plan, there is a maximum of 1.37m ( 4'6" ) of headroom. There is good sitting headroom all around the central area of the saloon.
There is substantially less in the forepeak. A two and a half year old can sit up fully in the forepeak.

Chart Table
The previous owners had fitted a socket to the saloon floor, and provided a chromed steel 'leg' which converted the chart table into a central saloon table. In normal use the veneered chipboard panel was fitted onto wooden pegs and jammed under a table tidy to form a chart table.

Seat Extension
There was also a rectangular piece of plywood, with a notch cut out of it and a strip of wood fitted to one of the short edges, It was again a creation of the previous owners and it fits between the battery locker and the plinth under the cooker, making a useful seat for sitting (very) close to the cooker.

Berths
Layout indicates 5 persons could sleep aboard. Realistically 3 could sleep without elbows/legs collisions. We are looking at extending the starboard berth into a double for small people with an extra cushion and a piece of plywood to make extra berth space.

Galley

There is a sink, with a hand water pump. We have fitted an in-line filter and a secret shutoff valve, as the supply of water is quickly used up for play.

As the work top is minimal (behind the sink, about 15 cm by 30cm) I made up a hinged plywood panel which is screwed to the after side of the sink pedestal. This is held up with a cord to a lacing hook high up on the locker side. This panel is 45 cm by 30 cm and is angled towards the sink, at least when the boat is flat ! It has supported a baby in a table-edge seat. If a 15 stone bloke sits on it it comes unstuck in an explosion of wooden trim pieces.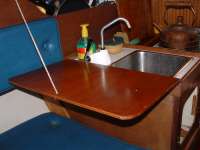 We replaced a Camping Gaz swinging bottle two ring gas cooker with an Origo methylated spirits cooker, as it was condemned by the surveyor. Fortunately we found somebody selling these off at 1977 prices in 2002. He had found a job lot in his garage, and we got the gimbals, pan clamps and cooker for £75
We cleaned up the old cooker and made some legs for it and now we take it camping.
We did have a problem with the Origo when we managed to drop some embers from a match head on the top of the fuel container's gauze. The ember stayed alight all night fuelled by the alcohol, with the burner shut off . The cooker burst back into life without the need for any ignition source in the morning. This doesnt usually happen, as we use a gas match type of lighter. Using disposable lighters is painful and rather dangerous as it takes a while for the alcohol to get going on a cold day by which time your fingers are cooking. Matches thrown in work much better.

Heads

There is a sea toilet (squeeze around behind the mast). It is a hybrid of two different parts, a bowl from 'Tuffy' and a modern pump and base from Jabsco, for spare part availability reasons (I broke the original seat base/pump in the hours before our first big cruise in 1997).
We have fitted a grab handle for more confidence, and stuff fenders and buckets behind so that it is less likely that one falls off it.

Water Storage
Water is held in a rather small 25L bungee-retained jerrycan which falls over at 30&degree; of heel. Fortunately it only holds 25L. A recent upgrade is to put an additional pair of plastic 25L containers into locker for cruising use, giving 75L total. These are normally kept empty for racing. To hold up the collection of cans, I use sail ties.

Lockers
A reasonable amount of locker space is provided but the rather flat profile of the hull means that some of the lockers are only a few inches deep.
There are no 'bilges' to collect water as such, rather a series of rectangular 'cells' each one of which is independent. This is due to the lateral and fore and aft reinforcement of the keel attachment points. Losing a litre of water into the bilges can be a heart-stopping experience as it starts to run around the floor.

Battery Locker
On Forethought the battery locker is situated at the forward end of the main cabin area. It will take either a single 120AH battery or a pair of 75AH batteries. It now has tie down straps to make sure the batteries will not fall out.
Currently there are a pair of 75AH gel batteries fitted here. A 17A battery charger bought at Beaulieu is now fitted to the bulkhead above.

Shore Power
I had a metred shorepower lead for some time, but it had been wired directly to a 2 way mains socket in the boat so one of the first things I did in 1996 was cut it off.

In 2003 with a big cruise pending, I recovered an ELCB and some magnetic mains circuit breakers from a scrapped power distribution box. I then fitted these in a box under the quarter berth and then rewired the boat with Arctic grade cable. We now have 6 mains sockets in the boat, 2 to port and 4 to starboard. One of the sockets is next to the battery charger.

By this time MDL had stopped charging for testing mains leads and so the chopped shorepower lead was reunited with a socket, and passed its test.

It has made a major difference to the state of the batteries when we find ourselves in a marina, something that happens far more often these days as we have children.

Auxiliary power
Forethought had a small 5 watt solar panel that was seen to deliver 1/4 of an amp into the batteries. This was replaced when it was found to be corroded and a removable 20 watt panel is now in use.


Optional Outboard Motor

When I changed the solar cell, I also took the outboard bracket off the pushpit and fitted a parallellogram bracket to the transom, as there was already a backing pad there. This is in case we suffer from more Japanese seaweed around the propellor of the Yanmar, so we can drop the outboard and push ourselves along with that for a while.

Variants
---
Forethought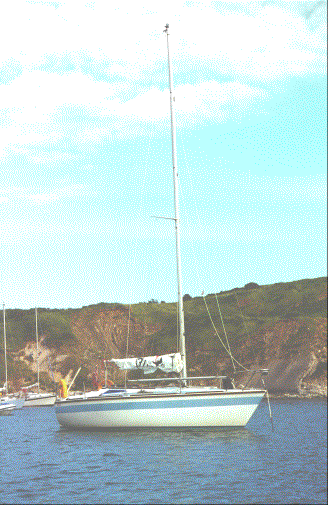 This picture was taken in 1996. See the Forethought of Gosport page for the story of the progress with our GK24.

---
GK24 hints & tips
I'm not an old salt but here's a few things we've picked up along the way.
---
Roll Damping at Anchor
When we are at anchor, the boat rolls horribly. I have almost fallen off as Forethought rolled when a motor yacht passed us while we were anchored in the lee of Hurst Castle. More experience and it doesnt seem as terrifying any more.
We found that an effective roll damper is a plastic bucket on a 3 foot rope with something fairly heavy in it to make it sink. We use an odd length of chain. The rope is tied to a stanchion at the point of maximum beam, and the bucket is filled with water and then allowed to sink. The bucket stays underwater and as its so aerodynamically horrible it rapidly damps out the rolling. It hangs low enough in the water not to bang the hull if we do roll.
I remember to take the bucket up before we leave the anchorage because we use the bucket to transport the anchor chain down below and to a locker. This is always preceded by a panicky hunt for the bucket, at least in my mind !
[top]

---
Replacing Stanchion Bases
One of our stanchion bases was cracked and eventually gave up the ghost, assisted by the side of the finishing barge in the Round the Island race. The laminate surrounding that base was pretty cracked as well : water leaked down inside the hull.
I replaced it successfully with a new almost identical base that I bought at the Yachtmail (now Aladdins Cave) chandlery at Hamble Point. However, the only trouble is that the three fixing holes are in different places. All but one bolt can be persuaded to go back in the same place. This needed a new hole to be drilled and the old one to be filled.
This breakage is due to the fact that the stanchions situated at maximum beam are angled outwards.
This makes them the first thing to contact a vertical quayside when not properly fendered.
Since this breakage, I have had one stanchion totally removed by a bow-mounted anchor on a Moody. This left a neat hole so I was able to rebuild the deck from underneath. I managed in time for the Round the Island race but I came close to bolting in a temporary structure of plywood to do instead.

Basically I cut away the lower side of the deck laminate for about 10 cm around the stanchion base, removed the balsa mush, and then made a piece of 10mm plywood to fit the hole. I then chamfered the edge of the plywood back down to flush with the bottom of the original laminate and then used 3 layers of woven mat with epoxy to fix it back.

Late 2002: The same stanchion has been ripped off again, by my neighbour in Port Hamble. He did not bother to admit it and I resent this somewhat. This time all that went was the stanchion base.

I had to hacksaw the old base off the stanchion, as it was locked on with salt and corrosion. Then I needed to fill and finish the deck damage caused by smashed metal gouging the deck.

[top]

---

Page © Mike James 15 Nov 2004
Comments to: mike@hamble.demon.co.uk