---
Stuffed By the Tide

This is a new sailing organisation founded on Saturday 15th May 2000 during an evening in Gosport after a rather depressing day yacht racing in a JOG race with an IRC 0.83 rated boat. Copious amounts of beer were involved. its foundation.
Contents of this page
Have you ever had this happen
Qualification for membership
Handicapping Methods
Race Starts
The Trap
Calshot Spit
Retirement Threshold
Poole Harbour Section
Dinghy Sailing Section
---
Have you ever had this happen ?
If so, then you are eligible to join. Just put the engine on, go back to the bar and mention you were 'Stuffed by the Tide'. Simple.
[top]

Qualification for Membership
[top]
Handicapping Methods
For safety reasons, races shall only be sailed when it is obvious there is no wind or the forecast is 'Cyclonic Force 2 or less'


The use of standard handicapping buckets is permitted to equalise the results of the boat. Apart from extremely short boats, no hull is permitted to reach displacement speed. The handicapping process is as follows For every 100 square feet of standard sail area above 300 square feet, one standard weighted 10 litre bucket shall be towed.
An alternative of one standard fisherman's net or lobster pot may be towed. This is equvalent to 5 buckets.

If at any time the wind speed increases to the point where crew members are seen on the windward side of the yacht for any extended period of time, the yacht concerned shall be disqualified, and retire immediately. They may exonerate themselves completely by buying drinks later.

Engines running in gear and in reverse may be used provided the thrust produced is sufficient to stop the hull completely in a wind strength that would result in a forward speed of 2 knots. In this case an inverted triangle shall be displayed in the foretriangle as required.

Coming to a total stop while tangled with fishing nets is permitted. Any boat so fouled will be given series points equivalent to winning. This will be conditional on being given assistance by a vessel substantially longer than 20 metres.
Planing hull monohulls may tow waterskiers on reaches to ensure that they are slowed down.

[top]
Race Starts
This is a single instance of how to be very clever and still be stuffed by the tide. In a race with a 10-5-1-gun sequence and tide taking the fleet over the line , go to somewhere near the favoured line end and motor against the tide checking shore transits to determine when the boat is stationary over the ground.
Divide the speed in knots by 12 (distance travelled in 5 minutes) and go that far up tide of the start line so that when the 5 minute gun goes the engine can be stopped and the boat begins to drift. The stupid bit is to assume that the tide goes in a straight line from where you are to the line. In the case of the Admiralty buoy sometimes used as an ODM at Cowes, there seems to be an offshore set to the flood tide. So as the start gun goes, watch the ODM go past less than one boat length away on the wrong side. At this point , turn inshore to use the back eddy at Cowes and start 40 minutes later.
[top]


The Trap
This is a noted place to stop at Hurst Castle. When about 2 boat lengths from the shore at low water, go aground. This is helped by having no idea that the echo sounder is reading depth of water not depth under the keel (or as we have it on Forethought indicating depth below transducer , in memory of a defunct Seafarer).
Get retrospectively scared by remembering the antics involving the Shingles with only 10cm under the keel not 1.6m !
[top]

Calshot Spit
I simply present Primadonna just before Round The Island 2000. Even though they put white duct tape over their name on the transom WE KNOW WHO YOU WERE !. They still made it to the start...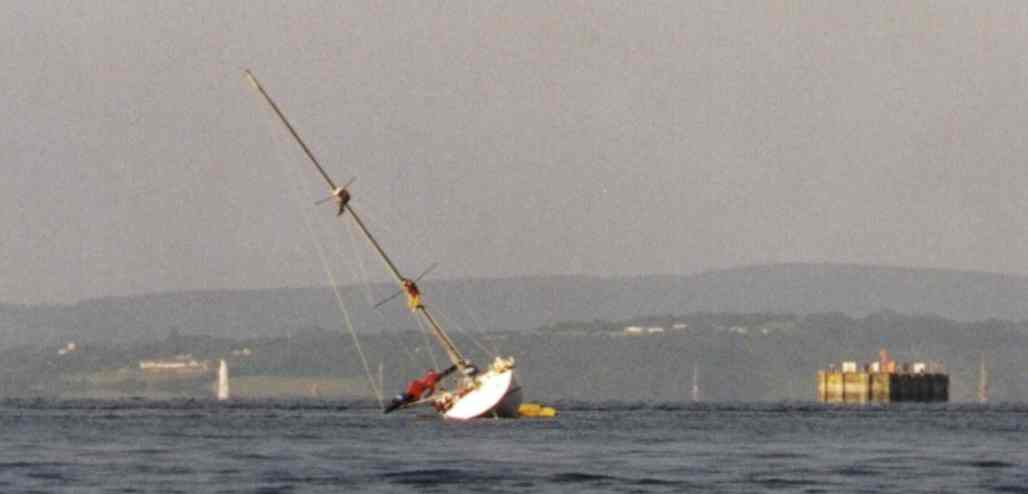 [top]
Retirement threshold
In order to determine when to retire on a race in the Solent, take out your copy of Solent Tides by Peter Bruce (or somebody else's if you dont want to spoil your own copy) and colour in the 2 knot plus tide arrows with a black marker pen. If your upwind course crosses one of these arrows coming against you, retire. You will save lots of wasted time.
[top]
---
Poole Harbour Power and Sail Boat Section




Seen in Poole Harbour near the entrance near Low Water Springs




Outside Dolphin Yacht Haven : Somebody picked the wrong buoy for the 'just pick up one of the yellow buoys to wait for a berth in the Marina'. The right ones are way out by the main channel. Totally bouncy and rolly.
[top]
---
Dinghy Sailing Section
While the focus has so far been on boats that stay afloat, here are some snippets sent in by a contributor to the SBTYC:

The first is a set of plotted GPS tracklogs taken from a Lark (12 foot round chine dinghy) sailing in too much wind with not enough crew (occasionally)

In the words of the helm :

Firstly, a set of four laps recorded on my Garmin eTrex whilst racing off
Netley SC in a Lark (Hull no 986, i.e. 1972 vintage) in a F5 to 6 in summer
2002. Oldest sail is a 1973 Spinnaker which is only 4 years younger than the
skipper. Lap one at 10 minutes was to be our best.
Lap 2 at 12.5 minutes was not so good, our first capsize predictably at the
gybe mark. Lap 3 was going well until the crew fell out due to a combination
of not holding on well enough and a large wave. Tacking round in the F5-6
with no crew in a Lark took about 2 minutes and another to pick him up. 14
mins for that lap. The last lap went brilliantly until about 40 seconds from
the finish line where we death rolled to windward, then had to sail away
from the line and back to drain out the boat losing about 8 minutes (only
the gunwhales were out of the water - she did a slow piruette over the stern
when we tried to head for the line). Last lap was 18 minutes.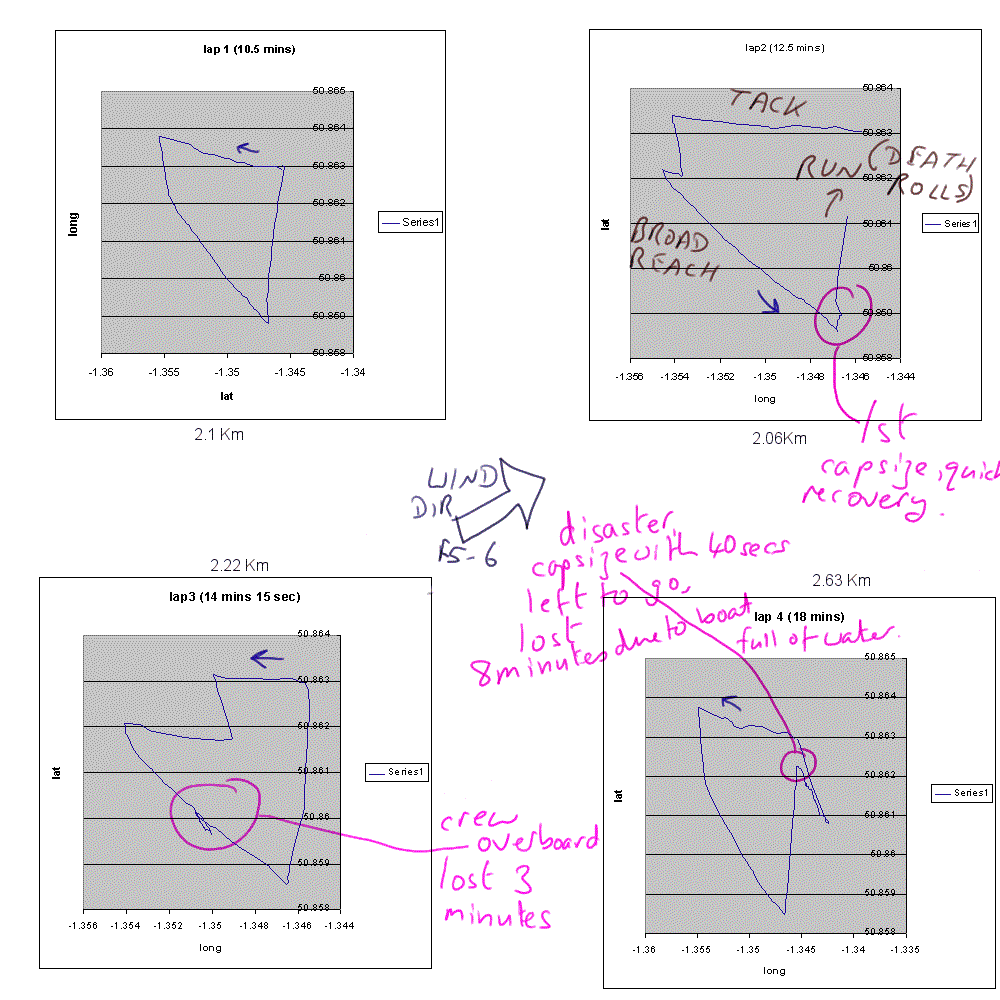 And earlier this year, what seems to be an attempt to impale a Laser 1 on a piece of wood but is actually :

Next picture is of the 4 foot gash left by a Dart18 on the first race of the 2004 season in my Laser. Both of us were on Starboard in a F5, the overtaking boat definitely didn't keep clear. 
£800 to fix and 6 weeks of no boat.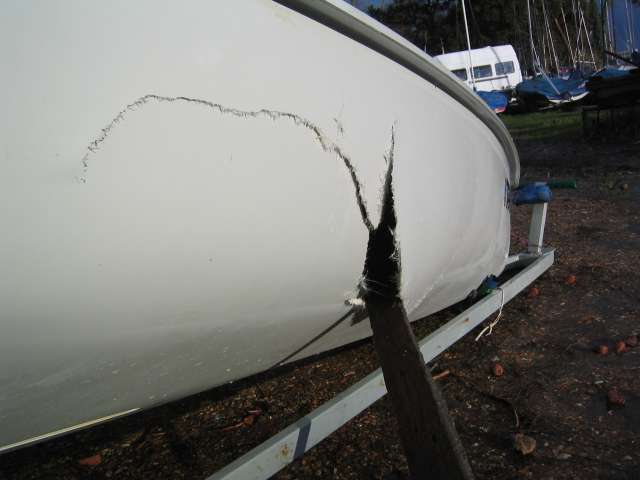 [top]
---
Safety procedures for the use of sailing boats
Basically the rule is always keep everything tied to the boat including the marina. In this way there can be no accidents at sea. This is especially true for windy days.

The best approach is to use a thin line (about 6mm diameter) which is attached from somewhere near the bows of the boat hanging down in a loop into the water and then attached to somewhere which is not a cleat on the pontoon. At all times make sure the crew cannot see the rope and do not realise that it is there. They will then still be able to enjoy preparing the boat for sea and going as far as casting off and leaping aboard. The boat will then move astern and come gently alongside the neighbouring boat. Use the rope to pull the boat back into the berth. Tie up. Go to the bar and discuss.
Please make sure that you have placed some fenders appropriately for this manoever.

It has been pointed out that twice as much fun can be had if you use a rope that is twice as long.

In fact the crew uncleated the line and we went out for an excellent reach up and down Southampton Water in a F4-F5 with double reefed main and 100% genoa.

[top]

---
Crew flipping
This requires a good violent gybe. Crew on the starboard side of the boat are unweighted as the boat is gybed onto starboard tack, slide across the coachroof , under the guard wires and drag their feet in the sea on the port hand side of the boat.
[top]

---
Boat Fishing
As we were leaving Bembridge harbour, I decided to clean the weed off the warps off by trailing them one at a time, while we were motoring. This works pretty well but:
At one point I noticed the boat behind crossing our course quite close astern. I quickly pulled the warp back in before I caught the boat .......
[top]



---

Page © I deny it all. I never wrote this. 27th April 2004-26th January 2009
Comments to: m...@hamble.demon.co.uk