Home Page
---
Lost:
We have become fans of the TV series : A small page here with a picture of some VW camper van bookends for the DVD collection. And now we have purchased a 1975 VW T2 Devon camper van


---

Round the Island Race 2008 : winning the trophy for the fastest ISC GK24


So here are some links :
Harrier Veterinary Surgery Where we take our rabbits for their checkups.
---
DVBT + DVD recorders
DVD recorders with Freeview? We have now tried two different models. The Goodmans GDVDR305DVBT and the Panasonic

DMRES20D (owned since 17 October 2005) . My comments are

here.

We have since switched to using a Media Centre PC. We made up a machine with Windows Vista. Then discovered the superior DVB-T capabilities of Windows 7 Media Centre which brings subtitle decoding from the recorded video
---
And a sailing picture
Or is it? Taken at 1800 on Wednesday 6th April. The boat in the picture is aground on Hamble Spit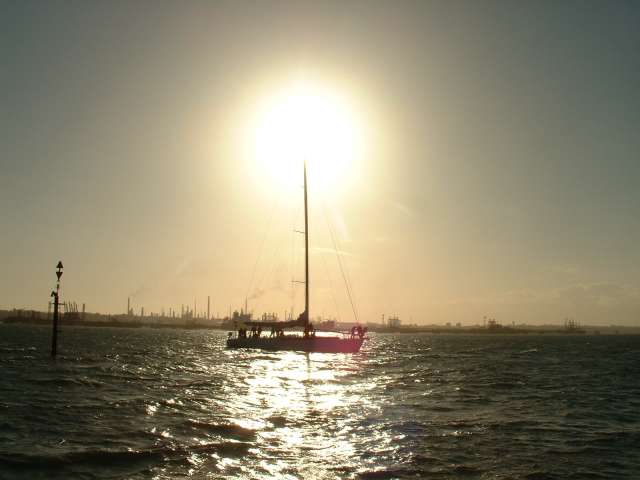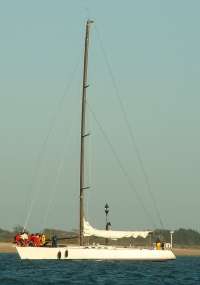 We passed this scene leaving the river Hamble on an evening when it was blowing F5-F7. Club racing was called off so we proposed a cruise under No.3 genoa up Southampton Water. We went up to Dock Head buoy and then put up the main in a lull.
We watched as they tried to get off but each time the wind blew them back onto the spit. Their engine could not pull them off, nor could having all the crew on the foredeck do much to alter the draught. As it was a rising tide we knew they would eventually blow across the spit and back into the channel.

We found them still there an hour later. We passed about 30 metres on the deep water side of the channel and had our depth alarm go off : there seems to be a steep sided extension to Hamble Spit growing to the North West (thats what the fishfinder recorded) . In the past I have grounded in Forethought (draught 1.5m) at lowish tide on a line between Hamble Spit and the Hamble oil jetty, This seems to be further out than I expected. Maybe they hit this.
We then entertained the crew of the grounded yacht with a gybe and near broach as the wind gusted as we passed them. I was standing on the mainsheet according to the trimmer. We nearly hit the cardinal marker post ..


---
River view from better times

Hamble River from the Mercury scrubbing piles (boat scrubbing) Picture taken March 1999:
By July 2003, these hae now fallen into disuse, as there is only one left.
I hope that the missing piles will be replaced, although the Harbour master will have more trouble charging for these as he can't see them from his office :-) We used to like using them as you cant reach the shore from them, and it was quiet.
It looks like they have gone forever as the single pile is just marked as a port hand marker.


---
Since creating this website my Acorn hardware has been replaced by a whole family of PCs, and the Acorns have been retired and stored away Now the house is served by at total of about 7 PCs - One Windows Vista, four Windows 7 and two Linux, including a file server running Debian and serving all those things for which Microsoft demand you buy a server version of Windows, and a HP/Compaq TC1000 running Debian with LED backlighting retrofitted.


Situated in Hamble-le-Rice, Hampshire, UK.

The family is Mike, Shirley and Catrina (with picture) (born March 25th 1998) Ashling (born Sept 13th 2000), a Westerly GK24 , a Pacer dinghy and an Oppi dinghy, and now a VW T2 van.
Two Rabbits Hearty and Fluffy , one guineapig (Chester Twitchington) , childrens toys, dads toys , old computers, and sailing junk.
Link