---
Psion Series 3
Yes I know it has an Intel clone NEC V30 micro in there.
Contents
Hinge Breaking


Formulas Program


Once upon a time there was a program 'Formulator' for the PsionII

This is a Series3 Version of it.


Power Consumption figures


Braindead Psion


My organiser went mad
---
Hints and tips on gluing Series 3/3a hinges
Firstly, you must realise that Psion hinges do not break, at least not according to Psion.
Despite this, my Psion has glued hinges. The breaking was caused by twisting the two halves of the case while it was in a leather case in my trouser pocket. It happened three times before I gave up paying £40.00 each time for the repair and did it myself
There are several parts to the procedure:
Choose the glue
As the case of the Psion is made of ABS then an ABS solvent glue must be used.
Superglue and Araldite break off of the waxy surface.
I found that Bostik PVC Pipeweld cement was appropriate (recommended by a traditional hardware shop). I have found that this works well , but not if put on too thickly.
Remove the battery holder
Unscrew the the four small crosshead screws visible when the batteries are removed. Note how the battery lead is clipped under the various strain relief points.
Reinforce the joint
To make the hinges last longer, reinforce the joint with a small piece of ABS. This can be found most easily by searching around for some small piece of consumer gear with the ABS recycling symbol on the mouldings.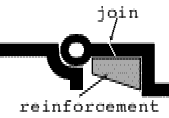 This must be shaped so that the case will still open fully - the reinforcement nearest the hinge must not come too close.
Put it back together
Dont forget to get the battery lead clipped under the right places.
[home] [contents]

---
Current measurements for a Series 3 Organiser
These figures were obtained on a Psion Series 3
standby: 150 µA


on, idle: 16 mA

on, calculating: 54 mA

reading ROM pack: 100 mA

alarm sounding: 160 mA
---
Page © Mike James Sun 29th September 1996
Comments to: m...@hamble.demon.co.uk