[Hamble Home] [Kent]

---
Herne Mill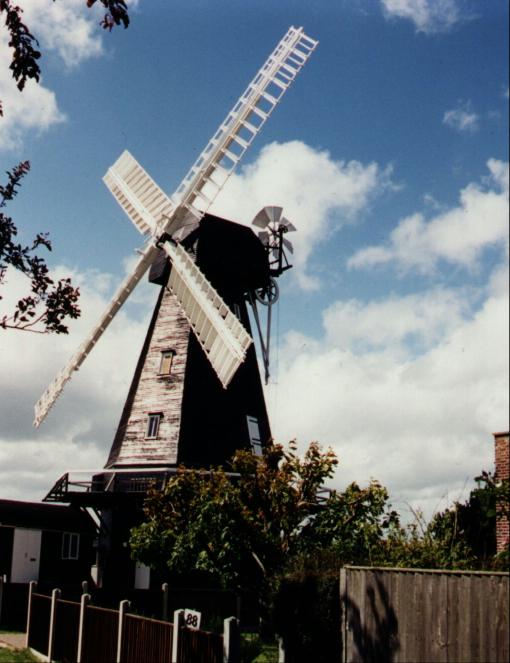 Herne Mill is a preserved windmill at Herne in Kent. Owned by the Kent County Council, it is cared for by the Friends of Herne Mill.
It stands overlooking the village of Herne and and it can be seen from the A299 Thanet Way which passes nearby. Access to the mill is from the village of Herne on the Canterbury to Herne Bay Road.
The mill bears the date 1789.
Repairs to the Mill
A sum of some £40,000 has been spent, partly from a grant by The English Heritage Lottery Fund, and partly from the Kent County Council, to remedy the severe structural problems that the mill was experiencing.
The cap was removed at the end of 1998 and refurbished by the millwrights. The kerb ring was removed and rebuilt, using some new timber, but keeping the sound old wood.
In the early summer of 1999 the old steel stocks were replaced with laminated wooden ones, and the shutters were rebuilt in canvas, all of which was to save weight on the head bearing.
In early 2004 the mill was again repaired and was turning again.

Open from Easter 2000
The mill is now in full working order and will be open to the public at weekends from Easter 2000.
Admission Prices
Admission prices will be as previously i.e. £1.00 for Adults, £0.25 for children, who must be in the care of a responsible adult.

---
Contact Information
For more Herne Mill information, please contact Valerie James: valerie@hamble.demon.co.uk
For website related information, please use the mail address at the bottom of the page.

---
Mill Links

Please email me with any other links you think appropriate.

---
Page © FOHM/Mike James 7 December 1999
Comments to: mike@hamble.demon.co.uk