Mudlarking

This page is devoted to Hamble Mud and peoples interaction with it.

4x4 16 June 2003
"can you help me please?"
"It looked solid to me" "I wasn't in 4WD at the time"


After a bit of a laugh we all went down got our shoes muddy and pushed.
Don't drive off of the side of the Hamble public slipway, even in a 4x4!

In June 2005 somebody tried again with a Ford Transit van, covered in the logos of a sailiing related company. No camera so no pictures :-(. My crew suggested they float it off at high tide .....


Scrubbing Piles

(6th July 2003) And dont try it in a bilge keeler either. Looks like boat settled too far upstream !
Either that or this is a top secret offset-keel design.
This was at the same time as everybody was shopping at the French market on Hamble Quay.

If you want to dry out a bilge keeler , go to the beach in front of the kiosk a little to the south of the quay.
The bottom there is (slippery) shingle. You can see a bit of it under the walkway in the picture below.

Mudlarking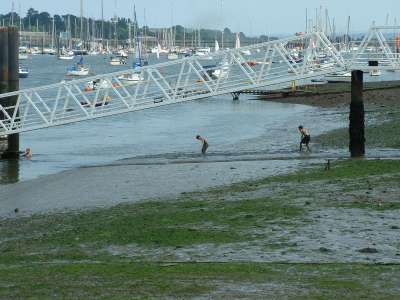 Dont do this, kiddies ! this lot were body surfing down the deeper mud near the river. It is pretty dodgy to walk through as Hamble Rescue can tell, as their boat is specially designed for shallow water and in-mud operations, as people trapped in the mud around here is a fairly regular happening.
I dont know how many rules were being broken. However nothing serious happened.
I would certainly think twice about stirring up all that TBT in the mud however.